Fresh From the Start
What they say is true: you are what you eat. In fact, it's where our name comes from. We're Fresh Brothers because of the fresh food we eat (and serve!). Here's a little intro to our ingredients.
The Base of it All: Our Dough
Frozen dough requires the addition of preservatives, and ultimately results in a lack of taste and texture. Fresh Brothers believes in fresh ingredients that taste great, which is why our dough is made each day. The flavor is in the freshness.
Real (Good) Sauce
When it came to finding the perfect tomatoes to make our sauce from, we didn't have to look too far! Our family-owned tomato cannery has been running their tomato farm for generations. Luckily for us, these tomatoes are locally sourced, found right in the sunny fields of Salinas, CA.
Happy Cows, Better Cheese
Wisconsin is a state known for its fresh and delicious cheese, so of course Fresh Brothers' 100% mozzarella is from there. Local farmers raise happy cows, and happy cows are known for making better milk! This high-quality milk goes to the Grande family, which makes authentic, Italian cheese. Yum!
All-Natural Meat
When it comes to meat, a lot of providers incorporate additives, fillers, and preservatives...all of which are not made of meat. Fresh Brothers makes sure that every protein source we use is all-natural, all meat, and all delicious! From uncured, nitrate-free pepperoni to ethically-sourced chicken, this is the good stuff.
Everything On Top
Toppings go onto a pizza last, but that doesn't mean that Fresh Brothers hasn't given them just as much thought as the "main" ingredients. We believe that even toppings should be top-notch, which is why everything we put on your pizza is as good as the pizza itself.
Dietary Options
Fresh Brothers stands for a lot of things, but at the source of it all is our firm idea that everyone deserves fresh pizza. We base everything we do on serving good food with good ingredients, and that includes having menu item options for everyone.
Vegan
There are a lot of restaurants that don't offer vegan options, and Fresh Brothers thinks that's wild! We've made sure to have vegan alternatives of all of our fan faves.
Gluten-Free
Our gluten-free recipes are missing gluten, but they're not missing Fresh Brothers' signature fresh taste. When it comes to finding a celiac-friendly meal, you're in the right place.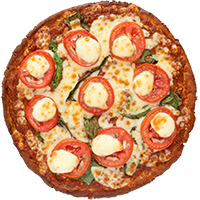 Keto
A huge component of pizza is dough, so it's easy to see why Keto diet followers might count it out. At Fresh Brothers, it's still an option!
Our Commitment to Animals
At Fresh Brothers, we believe in making sustainable choices for our food and plant. We are committed to providing our customers with premium options, high quality ingredients and food made fresh.

By 2024, we'll ensure 100% of our chicken comes from either RSPCA or Global Animal Partnership (GAP) - approved breeds/strains. We'll also ensure it meets GAP's environment standards (including lighting, litter, and enrichments); that stocking density is no greater than 6 lbs./sq. foot and broiler cages are not used; and that it's processed in a manner that avoids live-dumping and live-shackling of birds and instead utilizes a pre-shackle multi-step controlled atmosphere processing system that's widely hailed as more humane. We'll demonstrate compliance with the above standards via third party auditing.
Order Online
Ordering is easier than ever with our online menu. Pick your favorites, customize as necessary, add to cart, and then get ready for the best pizza ever.
Order Now
Order Now