Pizza Done Different
Our pizza philosophy is rooted in the idea that we don't make pizza like other people do. Fresh Brothers' pizza is made with fresh ingredients; that's why it's in the name! It's a traditional feel, a classic taste, and all of the upgraded nutrition that we're known for. We've taken old-fashioned Chicago pizza and turned it into something uniquely Californian. Everything we use is from industry-leading farmers so that everyone we serve enjoys premium pizza.
The Base of it All: Our Dough
When you think of pizza, you often imagine toppings first- sauce, cheese, and all the extras. Truth is, great dough is essential to making great pizza. You wouldn't build a house on a shaky foundation, and Fresh Brothers wouldn't make a pizza on subpar dough. It's freshly made, and you can tell by the taste.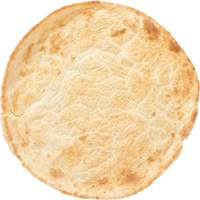 Original
Fresh Brothers' original dough is where it all started. This is the dough that made us so well-known. Classic, but never boring.
Skinny
Don't let the skinny dough's name fool you! It's a crust with less calories, but all the same great taste.
Cauliflower
We made our own cauliflower crust recipe for anyone looking for a low-carb, veggie-packed, healthy alternative. It's naturally gluten- and grain-free!
Deep Dish
You didn't think we would serve pizza without the option of Chicago-style deep dish, did you? This is the crust that embraces our roots.
Gluten-Free
Fresh Brothers believes that a gluten-free diet shouldn't remove the possibility of pizza, which is why we made our gluten-free crust!
Keto
Low-carb doesn't mean low on taste or nutrients around here. We packed all our goodness into fewer carbohydrates for our keto friends.
Real (Good) Sauce
Our Fresh Brothers family has tried a lot of pizza sauces, and we can confidently say that sauce tastes different when it's fresh. Our signature flavor comes from freshly-picked tomatoes, so preservatives and fillers are never necessary. They're grown locally by a family-owned business, and turned into from-scratch sauce by us.
Happy Cows, Better Cheese
It's pretty well-known that happy cows make better milk, and better milk makes for better cheese. That's why Fresh Brothers gets all-natural mozzarella from Grande, the Candela family business. All the milk is from local family farms raised in the heart of Wisconsin, turned to delicious cheese, and then sent here.
All-Natural Meat
Fresh Brothers is dedicated to providing ethical, sustainable, and all-natural meat in everything we make. You can rest assured that every delicious, meaty pizza topping we offer has the planet and your health in mind. Our meats are free of additives, preservatives, and fillers, so you always know what you're eating.
Everything On Top
Toppings are the life of the party, and they can make or break a pizza. That's why Fresh Brothers' vegetables, meats, herbs, and even fruit (yes, pineapple can belong on pizza!) are fresh and sourced from reliable, local providers. You can feel good about adding pizzazz to this pizza.
It's More Than Pizza
We're going to let you in on a little Fresh Brothers secret: we don't just love pizza, we're passionate about it. We're even passionate about loving it. Naturally we feel this way, given how it runs in our Chicago-rooted family. What's merely a meal to other pizzerias is everything to us, giving us a connection to incredible farmers, awesome communities, and, of course, you! The Fresh Brothers family strives to make other people love pizza as much as we do. How? Through our ability to make a difference, inside and outside of the kitchen. It's simple, just like our ingredients.
Nutritional Info
Interested in taking a look at Fresh Brothers' nutrition? We've got it right here! It lists all of our menu items' calories, macronutrients, and more, from pizzas to beverages.
Learn More
Menu
Ready to see our incredible ingredients in action? Our menu can be found here. Explore everything Fresh Brothers has to offer, including pizzas, salads, wings, sliders, and more!
View Menu
Order Online
Ordering is easier than ever with our online menu. Pick your favorites, customize as necessary, add to cart, and then get ready for the best pizza ever.
Order Now
Order Now